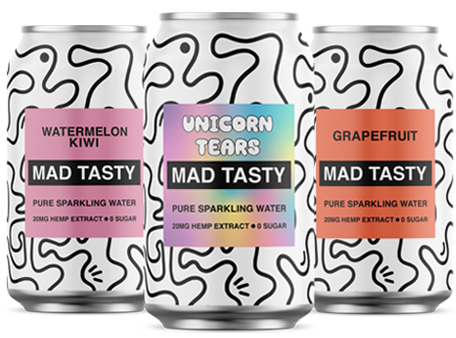 From an article on TRENDMONITOR:
This National Unicorn Day (April 9), MAD TASTY is launching their new mystery flavor – Unicorn Tears. Unicorn Tears is the latest flavor in their 20 MG hemp-extract, 0 sugar, pure sparkling water lineup. For every online purchase of Unicorn Tears, MAD TASTY will donate all profits from online sales for the first six weeks to the American Red Cross.
MAD TASTY was created by one of the music industry's leading singers, songwriters, and producers, Ryan Tedder of OneRepublic and NBC's "Songland," and:
Contains 20 milligrams of pure broad-spectrum hemp extract per can.
Offers calming benefits that help you zone in.
Contains no added sugars or sweeteners.
Is available in three delicious flavors: Watermelon Kiwi, Grapefruit, and new mystery flavor Unicorn Tears.
Is indeed MAD tasty.
"I wanted to give people some magic and spark their creativity and this new flavor, Unicorn Tears, does just that – not to mention it's also MAD tasty.  It's always been important to me to support those in need, and the world can use our help more than ever right now.  So, we are donating 100% of our online profits of Unicorn Tears to The American Red Cross during this launch." – Ryan Tedder on the Mad Tasty Unicorn Tears launch.